Today MMA gear has had a booming increase in business. The fan base and the true Vikings that enjoy actually being a part of the sport have increased as well. The biggest and most important question that most fighters come across first is what are the best MMA gloves to provide the best results? To provide a successful conquest a Viking must know and trust in the quality of the product and business. That is why if you've come across Viking Gear then you are on the right path. With our variety of gloves, it is important to weigh out the many factors that come when choosing the right pair of gloves. These factors may include the purpose of your gloves as well as the style you may be looking for. With our one of a kind guarantee, you can feel confident in our products especially our MMA gloves.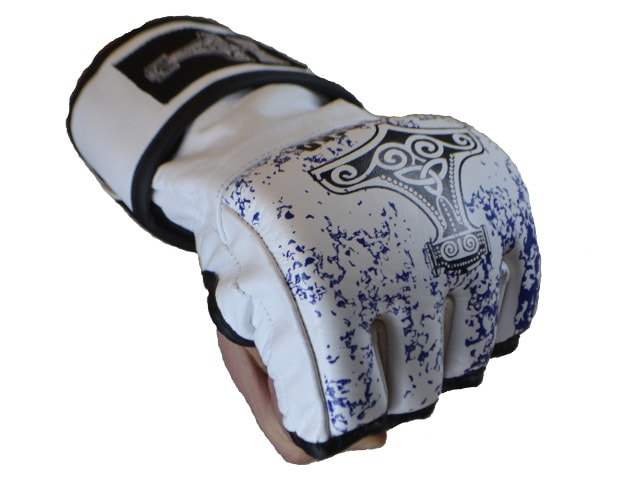 Thors Hammers are made for viking lightning light grappling. With these pristine mma sparring gloves you will not only feel like Thor himself but be ready to hit with lightning like strength and speed.
They are beautifully designed 4 oz pro gloves that are wonderful gloves for any amature or professional. They are 100% leather made gloves creating a lightweight feel but tough character. They are far from your typical cheap vinyl glove seen in a lot competitor's websites. They are specifically made to be comfortable and extremely durable great for striking and ground work. For ground game it's open thumb and palm design is perfect. You will feel like you have nothing on with the specific make in size and flexibility. It is also equipped with an extra long wrist support as well as VikingGearPro™ Finger protection. These gloves are easily compared to the expensive UFC gloves priced over $70 dollars a pair.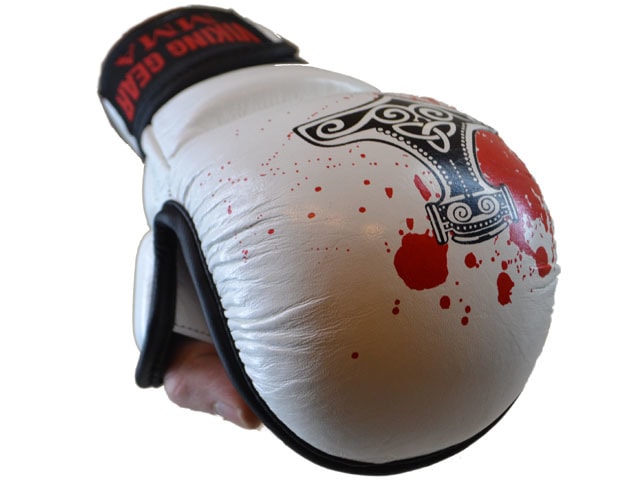 "I came into this world kicking and screaming while covered in someone else's blood, I have no problem going out the same way."
With the advancement in incredible technology and looking at the latest trends, the gloves do not disappoint. They are ideal for grappling techniques, striking or even training. The 6 oz Viking Gear Blood Lust Series ™ are perfect for grappling due to the individual finger inserts as well as the exposed palm. The best part is that these gloves are patented with 100% Viking Tough leather technology which makes these very strong and durable great for any conquest. They are also made with moisture absorbent technology to keep you dry from your sweaty battles. These MMA training gloves have a long wrist support for superior wrist protection. It lets you hit your hardest while absorbing most of the impact on its 6 oz striking surface. Although the 4 oz gloves are using these gloves don't cause as much damage and are perfect to spare in.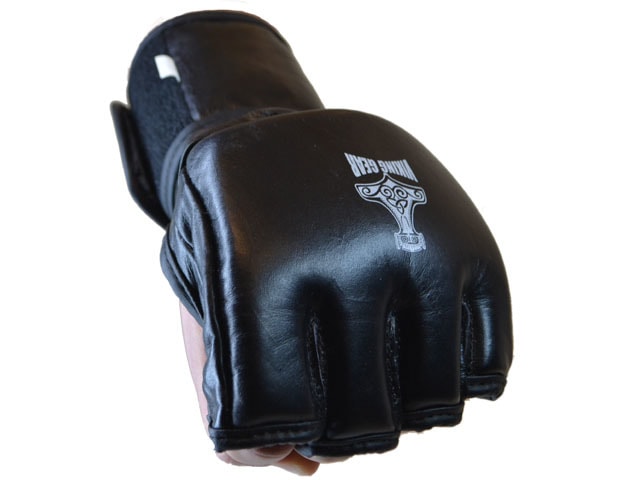 Fo any professional these gloves are a classic fit.
They are a 4 oz 100% VikingTough leather made glove. These MMA gloves are not cheaply made in any way and are made for optimizing total success for any MMA professional. These gloves are specifically engineered to be comfortable, strong, and extremely durable. They are gloves that are suitable for both striking and groundwork. They are made with a long wrist support for protection as well as an open palm and thumb. This creates a very freeing feel almost like there is nothing on your hands. VikingGearPro™ finger protection is also incorporated in the manufacturing of these impeccable gloves. These gloves are also compared to the similar design as the professional UFC gloves. Great for kids mma gloves as well!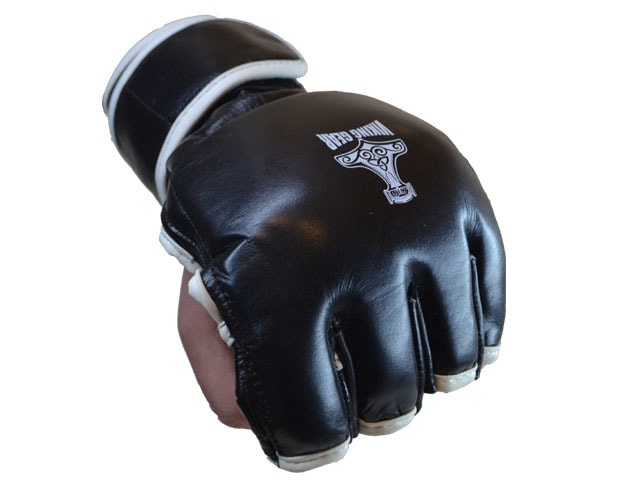 "Better to fight and fall than to live without hope."
These 4 0z 100% VikingTough leather made gloves are made for a variety of fighters. Does not matter if you are into Krav Maga, MMA, Boxing or just looking for great general mma boxing gloves these are the ones for you! They are made of strong durable and reliable material far from the average cheap vinyl material sold by most competitors. These are made with high density lining and VikingGearPro™ finger protection. They are great for professionals and amateurs alike. Similar to our other gloves they are made with an open palm design and have an extra long wrist support. Get them while you can!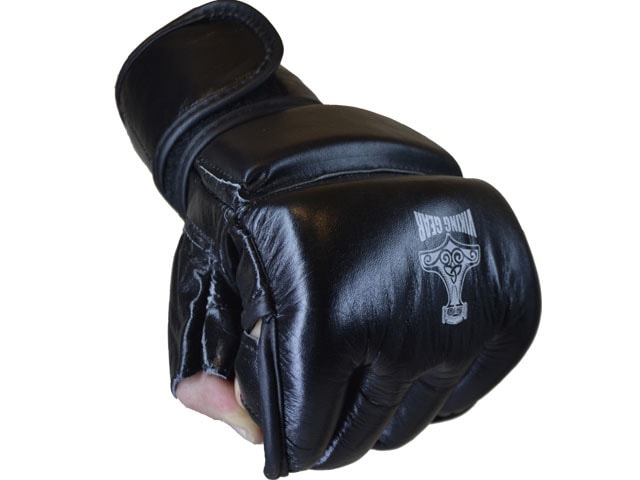 For a Viking it is important to have the best protection when in battle and that is what you will get with these 4 oz pro gloves.
It does not matter if you are an amature or a professional these gloves are perfect for anyone, especially if you are looking for optimal protection. They are made with 100% VikingTough leather, a strong, comfortable, and reliable set of gloves that are made for only the best! LIke a lot of our gloves these are made for both striking and groundwork and made extremely durable with a long wrist support. With a fully leather palm protection that is breathable, they create the best protection for your hands and are equipped with extra thick knuckle padding. VikingGearPro™ finger protection design also makes these some of the best-protecting gloves for any type of fighter.