Brazilian Jiu Jitsu is becoming more popular as the years pass. It keeps moving upwards with people young and old learning this great type of martial art. It is hitting a record high of how many adolescents that are enrolling Brazilian Jiu Jitsu. That being said, the need for kids bjj gi are increasing rapidly. It is important that parents select durable long lasting kids bjj gi that gives optimal movement and leads their children on the path of victory!
Before we become big Vikings we start as children. That is why on your life long conquest you should choose a kids BJJ gi that is suitable for battle or practice. Lucky for you we have the absolute best kids bjj gi in the world.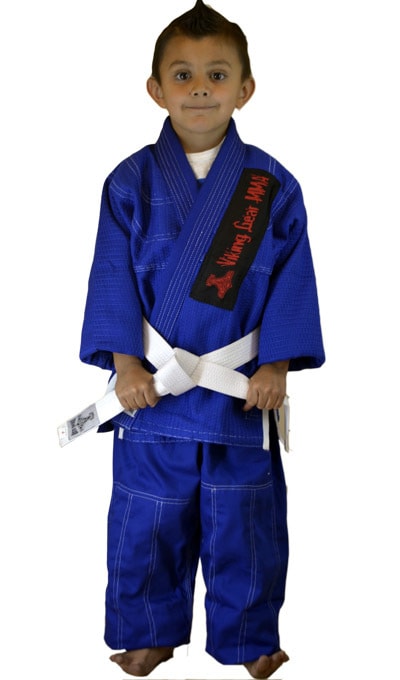 This product for kids is made with quality Viking Gear material. This is a "starter gi" that no other manufacturer can get you. Its quality is so durable that it will not rip apart the first time you wash it like most other competitors kids BJJ gi and one that you and your kid can enjoy for years to come! To optimize your little Vikings potential on the mat you must first start with giving them the best equipment for battle.
The Little Viking Kids Blue Gi is a top of the line Jiu Jitsu Gi that has an amateur price with extremely professional quality. The gold weave is 550gm. That is stronger than a single weave without added weight of a double weave which slows down most youngster in BJJ. It is made with 100% cotton and black stitching. Both the pants and jacket are reinforced with double/triple stitched seams. Made with multi-piece front and single back paneling. This gi is made with a clean high end design with no patches and comes with a free white BJJ belt essential for any beginner. The ants are also equipped with knees doubled down to the lower hem. This kids BJJ Gi is great for basic everyday Jiu Jitsu use as well as competition. Compared to top competitors like Vulkan, Hayabusa, and Atama this is an extremely cheap price for this specific item. The best part about this Gi is that if you own a gym looking at pricing for wholesale we now have a wholesale program that can get you this kids BJJ Gi for an even cheaper price. At that point it is essentially a steal! So get them while you can and see for yourself why so many parents are proud to have their little viking wearing our gi.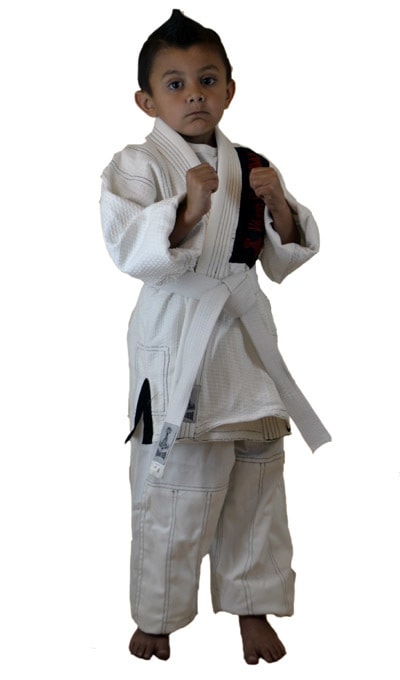 This Kids Gold Weave Bjj Gi has a clean look that is not overly branded. It also comes with a free white belt like the The Little Viking Kids Blue Gi. This bjj gi for kids has all the specs of a high tech gi like the fact that it is extremely durable. This gi is so strong that, unlike most cheap kids gi, it will be long lasting especially after its first wash sustaining its clean cut look and stitching. It is a gi that can last for years. It is made with 100% cotton and 550 gms. It has a Gold Weave fabric with black stitching with a clean high-end design. The pants and jacket are both made with double/triple stitched seams, with the pants having reinforced knees all the way down to the lower hem. This gi has a tailored single piece back paneling as well as a multi-piece front.
Although for both kids BJJ gi that are labeled "preshrunk," shrinkage will still happen if you wash with hot water rather than cold and or put in the dryer. To avoid any more shrinkage it is important to only line dry and wash in cold water.